Honest No-Dig Pipe Bursting in the San Fernando Valley
Burpee's Plumbing & Rooter is the expert for your pipe bursting service needs in Greater Los Angeles and the San Fernando Valley.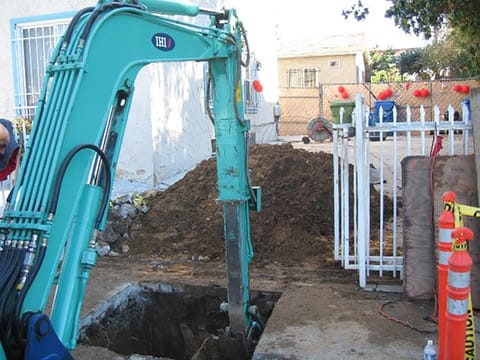 After all other methods have been exhausted, pipe bursting service may be the best option to replace the damaged and dysfunctional pipe. A standard pipe replacement can be both costly and destructive. When a standard dig up is needed, whatever is in the way of getting to the pipe must be removed, including: landscaping, decorative concrete and whatever else is in the way of getting to the damaged pipe. However, a pipe bursting service will minimize greatly the costs and there will be virtually no damages to your landscape or concrete.
For a budget friendly option to major sewage system replacements, count on the team at Burpee's Plumbing and Rooter to provide expert pipeline bursting in San Fernando Valley and Los Angeles.
What is Pipe Bursting?
Pipe Bursting/Pipe Breaking is a process used to minimize excavation when replacing a damaged drain. This technique does not require trench excavation, it can reduce the costs of the repair and save your property from damages as a result of a full excavation. The pipe bursting technician will first locate the precise location and source of the problem by conducting a camera inspection on the drain in question. Once the location is pinpointed, the tech will make two small access points, one for entrance of the pipe and the other for exit of the feeding hose.
The pipe bursting head is inserted through the entry point and into the original pipe, which will then break apart the existing pipe, making room for the new pipe, then the new HDPE pipe is inserted in its place. The original pipe will remain shattered and buried in the ground and your new HDPE pipe will be installed in its place, giving you a brand new pipe without the big ole' dig up!
Pipeline Bursting Advantages
Your number one advantage when choosing Pipe Bursting services with Burpee's Plumbing and Rooter, is that we are certified in HDPE technology and best practices. HDPE pipe is specifically used for pipe bursting application. The HDPE pipe is heated to a degree that makes it sturdy and flexible, allowing it to be fed through a small access hole thus replacing the original pipe. HDPE pipe is also smooth in texture keeping it safe from future root intrusion and cracks.
Burpee's Plumbing and Rooter has more than 7 years of pipe bursting experience in San Fernando Valley and Los Angeles county, so you can trust us to do it right!